What is the difference between a trial and a free subscription? Is the test period free? Of course and more than that.
Trial

Free

Pro

Online booking

✔️

✔️

✔️

Ready-to-use website

✔️

✔️

✔️

Social media integrations

✔️

✔️

✔️

Notifications

e-mail notifications and 2 SMS

–

✔️

Staff commission, Finance, Analytics, and Inventory modules

✔️

–

✔️

Premium integrations
(incl. Telegram)

✔️

–

✔️

Company size

no limit

1 user in 1 location

no limit

Payments

14 days free

free

every month / annually
Trial period
When you sign up for the system, the 14 days trial period starts. In this period, your possibilities are equal to the Professional plan. You can test all the functions with their full functionality. You shouldn't pay for this, but after two weeks, you need to decide: are you moving to the free or Pro plan?
Free account
EasyWeek offers a Free plan for companies with one employee and one location. On the Free plan basic functionality of the system is available such as online booking, ready-to-use website, and most integrations: social media, Tilda, maps, integration platforms and so on.
You can upgrade to a Professional plan at any time.
Pro account
On the professional version of EasyWeek, users have access to all the features of the system. The charge is tailored individually according to the size of your company.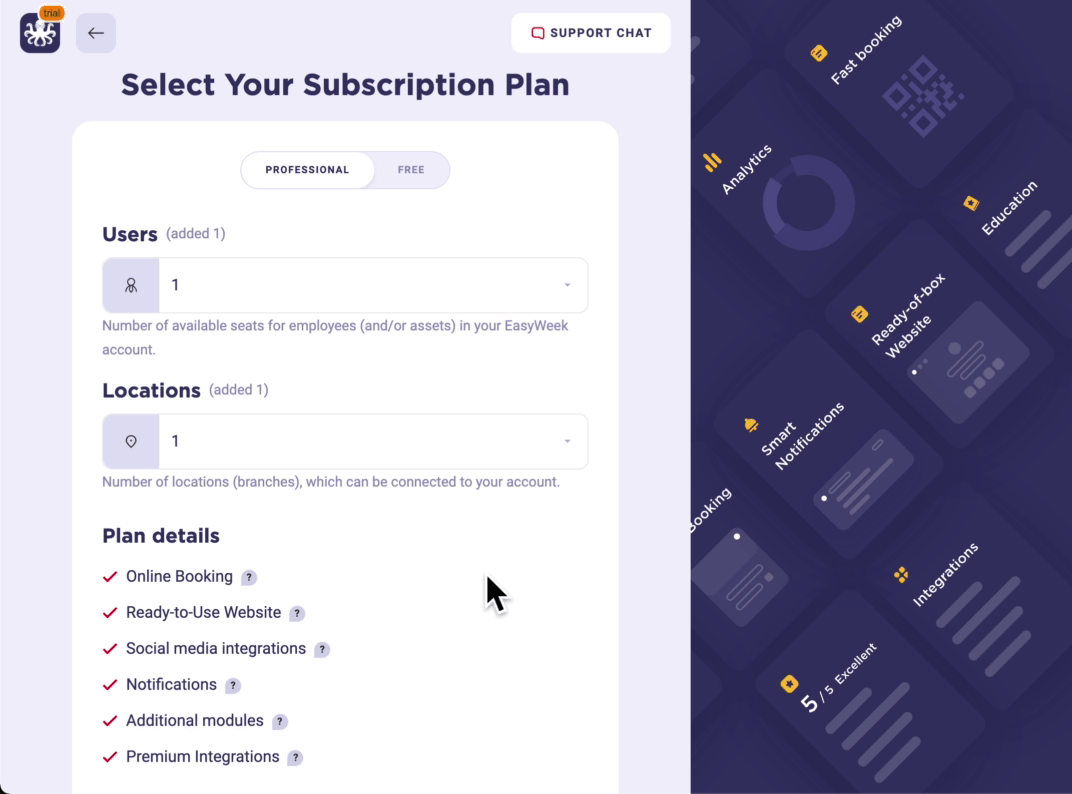 Pro plans significantly expand possibilities with such multifunctional modules as Staff commission, Finance, Analytics, and Inventory.
You can flexibly set up payroll schemes, sell products and manage stocks, view and download detailed analytics for the entire company and its branches. Read more about Professional modules.
Also, they give access to a complete list of premium integrations in the EasyWeek marketplace.