When you add a new location or initialise your company for the first time, you might need to add more than one employee.
Log in to the EasyWeek.

Click on the Profile icon at the left bottom corner.

Go to the

Staff & Assets,

then click the big button

Add new:



Enter all required information in this form, such as Name, Surname, E-mail (for all notifications and reminders), Phone number, Position and related Locations/branches.
Setting the access levels
You should regulate the security roles after describing all the basic information. There are three access levels in EasyWeek:
Owner

: always full access to the system controls, analytics, staff commissions and salaries. The owner assigns roles and grants access.

Admin. Having fewer functions than Owner, Admin

manages its branch: clients, products, service settings, staff schedules, salaries and grants access.

User:

can view own schedule and working hours.
Some role permissions for Admin and User roles are tunable. To customise it, follow this page:
Click the profile icon on the left bottom corner.

Choose Staff & Assets.
Go through the User permissions link.
This page displays both static and editable permissions for every role: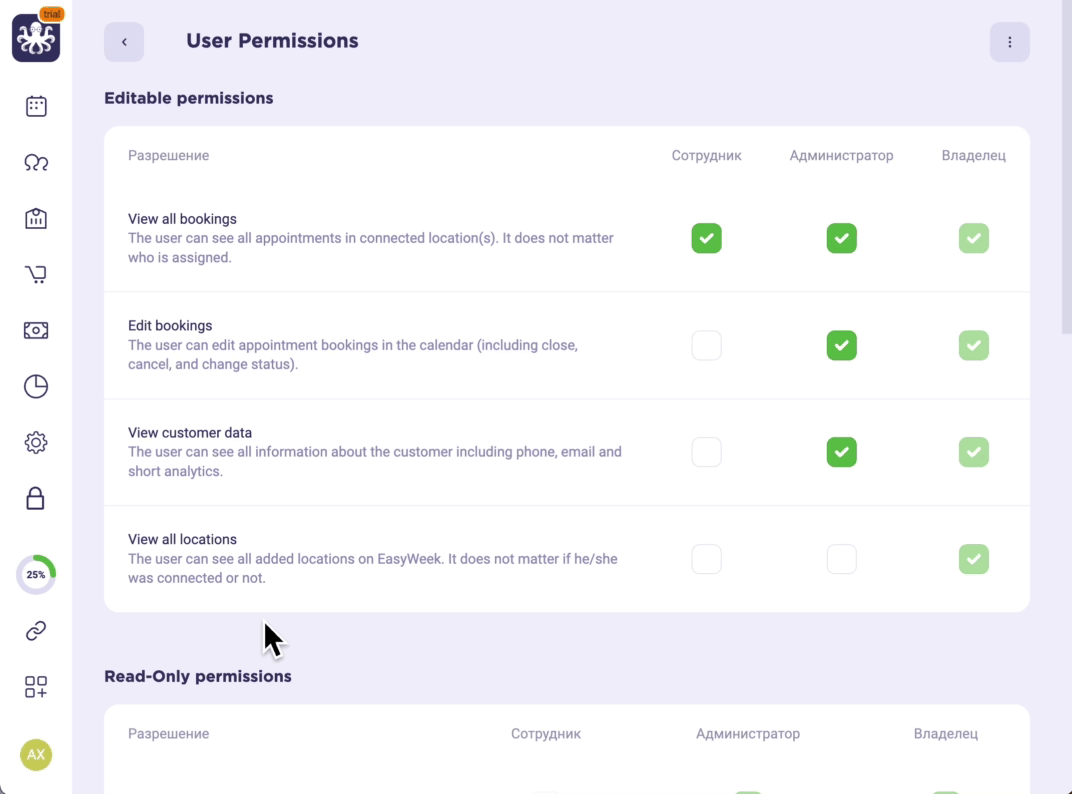 How to change a photo
Click on the circle in the left bottom corner.
Go to the Staff&Assets.
Choose a worker to edit his photo.

Click on the round picture and select the required action:

Zoom

,

Remove

or

Change Image.

Choose an image on your device and adjust it by zooming and moving.

Then click

Save.

Assets
Your company may have another entity with a schedule besides workers. They are called "Assets" and also will have a place on this list. More about it is in this article.